Support home / Account /
How to use Fathom's dashboard
First, let's start with what Fathom Analytics is: a simple, privacy-focused website analytics tool that gets you just the data you need to run your business, without cruft and clutter.
Fathom is also GDPR compliant, meaning you do not need cookie consent notices on your website for analytics (yay!).
1,000s of customers already trust Fathom for their website stats - from small businesses, to Fortune 500s, to pioneers of the open web and even governments who are honouring privacy laws.
You can watch a Youtube video here, walking you through all the features visually. Or keep reading below.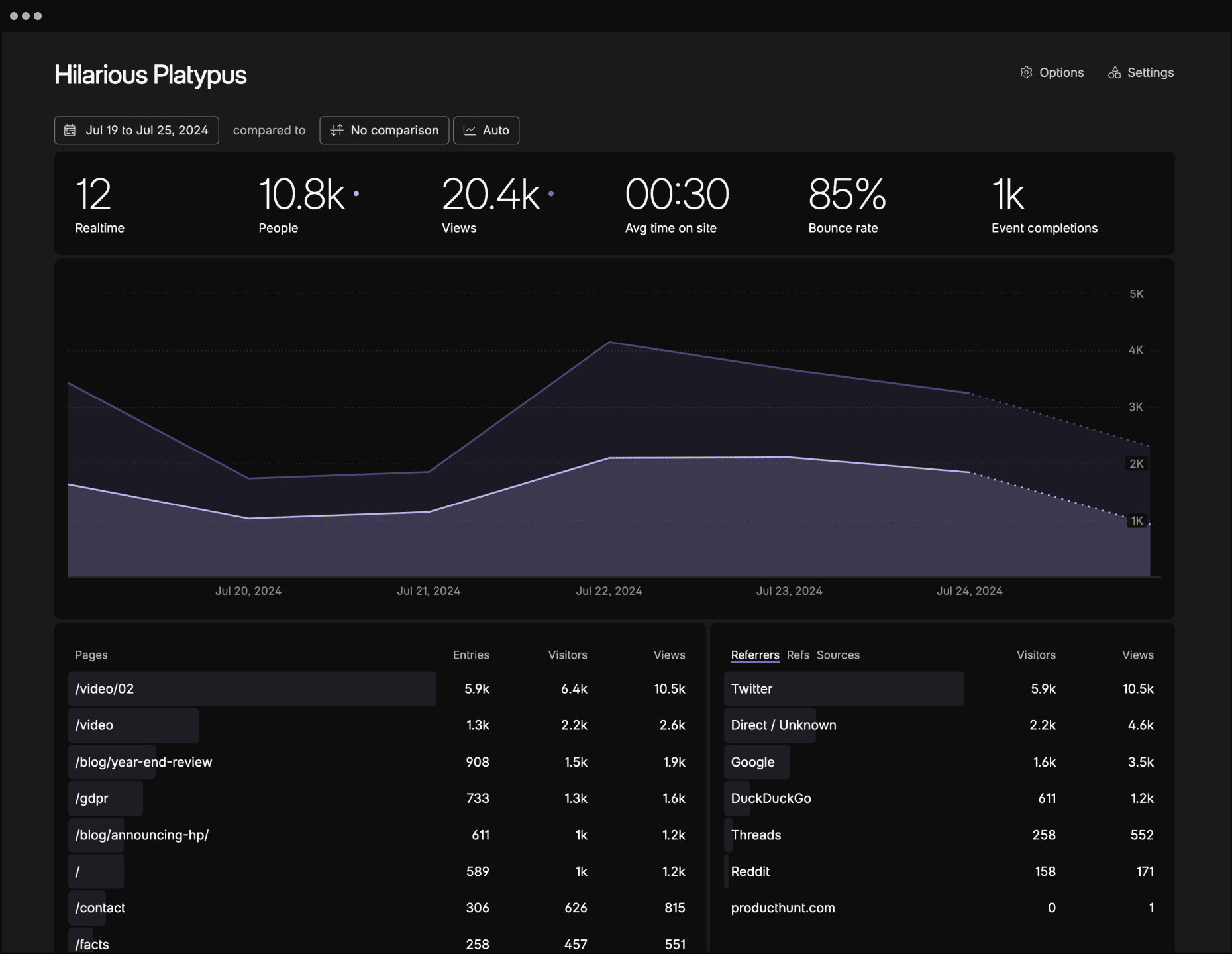 Opening content and referrer URLs
If you want to open a link to your site or to a referrer from your dashboard click it while holding down Command (on a Mac) or Windows (on a PC).
We process a visitor's IP address and user agent temporarily, then convert it to a hash that can't be decrypted. The reason for this is that we want the hashes to be completely useless to anybody viewing them (including us). Visitor privacy is incredibly important to us.
What is a hash, you may ask? A hash is a way to convert an input (in this case an IP and user agent) into an anonymized output. A hash is different from encryption, because an encrypted output can be decrypted, whereas a hash is one way. We do this so we are anonymizing all visitors and their personal information in the best way possible.
We then save that hash for up to 24 hours to measure visitors (reset at UTC +0). At the 24 hour mark, we scrub even the hash table, so we cannot track individuals over time (making Fathom even more private).
The best way to explain all of this is with an example.
If you visit a website that uses Fathom Analytics at 7am today and look at a single page, you are counted as one visit. Then if you come back at 9am and then again at 9pm, you are still unique. So your dashboard will show one visitor and three views If you come back and visit one page at 7am the next day, it counts as unique.
If a visitor is a unique person who visits your site during a 24 hour period, then a viewer is a unique page view. Let's look at an example: Sally comes to your website (and is therefore a single visitor). She clicks on 4 pages: about, contact, back to about, and then finally purchase. So, she's 1 visitor, a viewer of 3 pages, and has 4 views (because she went to about twice).
Views are important to understand as we price all our plans based on the average views you receive each month. All plans come with custom domains, unlimited email reports, unlimited uptime monitoring and more, but we track and price based on page views.
So what's a view? That is any time a real person (not a bot) loads a page on your website. So if you visited a website with Fathom installed, and clicked on five pages, that's five page views.
It's important to note here that Fathom Analytics is more accurate than most other analytics products because we filter out bots and crawlers, so you don't pay for them visiting your site, nor do their page views show up on your dashboard.
This is why Google Analytics and Fathom Analytics stats can be different for the same time frame for the same site: Fathom blocks robots well, whereas Google does not. Fathom also allows customers to bypass ad-blockers (which 30–50% of internet users have installed), whereas Google Analytics is blocked.
We block bots and bypass ad-blockers so you get the most complete web stats picture possible, so you can make the best decisions from that data.
It is the calculation is done between page views and displayed in MM:SS. If a visitor only views one page, no "time on page" is tracked. So we only track this data by logging the time between page views.
That means if you are a visitor, and visit the homepage and leave, no average time is calculated. If you are a visitor and visit the homepage, then the about page and leave, we track the time between the homepage loading and the about page being clicked.
Bounce rate is the percentage of visitors who enter a website and leave without clicking to any other pages.
This isn't the most useful statistic, especially if you have a one page site, or a site where links are external, because most people will "bounce" even if they are doing what you hope they do on your site.
We calculate bounce rate for your entire website, which means we take the number of visitors to your site and divide it by the number of visitors who left without clicking anything else.
This certainly can be useful in some instances, but bounce rate isn't always the most useful stat in looking at your website analytics (on Fathom or on any analytics platform).
Events in Fathom are anything you want to track that isn't just a page view. In other software they can be called things like "Actions".
So events are useful for things like button clicks, form submissions or the loading of very important pages, like ecommerce success pages (after someone buys your product). You can create unlimited events in Fathom, and each event completion counts towards your page view limits on your pricing plan.
Conversion rates in events are calculated by taking total page views of the page with the event present and dividing it by the number of times the event was completed (ex: the button was clicked or the form was submitted).
Currently we track all visitors in UTC +0 and then load your dashboard based on your local timezone. Our hashes for unique visitors are reset at midnight UTC +0. In an upcoming version we are going to be asking for your timezone and processing the hash reset based on midnight your local time.
If you click on the "X Current visitors" at the top of your dashboard, and you have more than zero people looking at your site, you'll see them listed by the page they're looking at and what referring website they came from. If you click on "X Current visitors" again, you can hide the purple current visitors box.
You can view the data for your website analytics by any date range. Click on the dates at the top/right of your dashboard and you can choose from a number of present ranges (like "Last 7 days" or "All time") or select a custom date from the calendar.
Refs will show in your referrers box if any URL that's hit your site includes one. What's a ref? It's a parameter that's used in a URL sometimes, like:
hilariousplatypus.com/?ref=producthunt
So in the example above, producthunt is the ref that'd show in the Refs tab. Refs are just another way to collect a bit of data from a referring URL.
Fathom lets every dashboard you've got have 3 modes for viewing.
Private - by default, your dashboard is only viewable by you, when you are logged into your Fathom account.
Password protected - you can make a single site's dashboard shareable via a URL and a password that you set. This way only people with the unique URL and password can view your dashboard. This is great when you need to share your analytics with your team, but not the rest of the world.
Public - you can make a single site's dashboard fully public, like our own demo, where anyone with the URL on the internet can view your dashboard.
You can always update or change these settings at any time, or even change the password to your protected dashboard whenever you'd like.
From the settings on your Fathom account, you can set-up uptime monitoring. On your dashboard, beside your site name (top/left) we show either a green dot (your site is online) or a red dot (your site is offline). This works with any method of notification for uptime monitoring.
Click any of the totals in the totals box at the top of the dashboard to show them on the chart, then click the same total again to hide it from the chart.
Click and hold your cursor on your chart and drag to zoom! This lets you drill into date ranges without adjusting the date range dropdown.
By default, Fathom now looks at your system settings to show you either light mode or dark mode. Because you may want to have dark mode as your system setting, but view Fathom with light mode (or vice versa), you can adjust this in your settings to force either dark or light mode regardless of system setting.
If you leave the setting on "Automagic" Fathom will adjust based on your system preferences.
Another quick tip: you can get to your site settings by clicking the "cog" at the top right of your dashboard now.
If you still have questions or require help with anything, please reach out to us and we'll happily get things sorted out for you.