Website analytics for agencies
Fathom Analytics is a simple-to-use, privacy-focused Google Analytics alternative created with agencies in mind.
A key feature in how Fathom works is that every dashboard and email report is completely separate—so each client only sees their data. And as an agency, you can add up to 50 client dashboards per account (if you need more, you can quickly add more for a small additional fee on any plan).
We migrated nearly every single client site of ours from GA to Fathom in under two weeks.

Jake Cleveland, founder of Darwin Software
Fathom is the perfect privacy-based Analytics solution for us. We can provide the metrics that our clients need and reassure them that their customers' data isn't being shared with faceless companies.

Darren Pinder, owner of Vatu
As the former owner of a 12-person web agency, and as the cofounder of the Privacy Policy generator Termageddon, it is my opinion that web developers have a professional responsibility to exclusively offer a privacy focused analytics solution to their clients. If you aren't offering compliance focused solutions to your website customers, you are potentially putting your clients at unnecessary risk of privacy law non-compliance. Fathom is a top notch privacy analytics solution with agency-friendly pricing and we use them for our own website. Offering Fathom to clients is incredibly simple and a complete no brainer!!"

Hans Skillrud, co-founder Termageddon.com
Fathom is used by companies who care about your privacy
Where Google Analytics fails agencies
First, Google Analytics is illegal (this is a big deal). But even if you overlook the law, the problem with Google Analytics is that it's difficult to use, inaccurate and time-consuming to teach each of your clients how to use it.
With Fathom, our software focuses on the data that agencies and their clients need to make intelligent decisions about their campaigns and companies.
In contrast to Google Analytics, our dashboard is a single page and is instantly understandable by anyone with any skill set. Our email reports are equally easy to read and set up.
Features your agency can use
You can add up to 50 clients on any plan
Every Fathom plan comes with up to 50 sites, unlimited email reports, and uptime monitoring. Our pricing plans start at $14/month for up to 100k pageviews (and we don't cut you off if a client pushes you over, we simply ask you to upgrade). And if you have more than 50 client sites, you can pay $14/month per additional 50 sites.
Clients only see their data and dashboard
With our dashboard sharing feature, you can give simple/easy access to each client, and they only see their data (not your other clients). The same goes for our email reports; you can quickly add a per-site report to send them.
Email reports take seconds to create
Our email reports can be sent weekly or monthly and include one site or multiple sites. We surface the critical data points (visitors, views, average time on site, bounce rate, event completions and revenue), so you can quickly scan them to see what's working or what's not.
See all your data (not just half)
Half of the internet uses ad-blockers, meaning Google Analytics is blocked by about half your traffic. With Fathom, using our custom domain feature, which takes five minutes to set-up, you can see 100% of your traffic and get more accurate insights because of it.
No more ugly cookie banners
We are fully compliant with privacy laws such as the GDPR & ePrivacy Directive, so we don't store or collect personal data. This means that your clients don't need an annoying cookie or consent banner for analytics. Seriously!
Track campaigns and conversions with ease
By using UTMs and setting up events for your clients, they can see how well their paid campaigns drive traffic to their site and how well those campaigns are converting to sales (by using events).
Free uptime monitoring
You can enable free uptime monitoring for every site you add to Fathom. That way, if you also host your client's websites, you can be the first to know when their site is down (so you can fix it quickly).
Your data is your data
We don't want to own, rent or sell analytics data for your clients. So you can export it, you can move each client to their own Fathom account if you want, or even interact with it in our API.
Thanks for creating such an awesome product in Fathom Analytics. It's so well done and a huge relief as an agency owner transitioning clients off GA onto a privacy-focused analytics platform.

Ben Lee-Gleadall, founder of Decade Agency Limited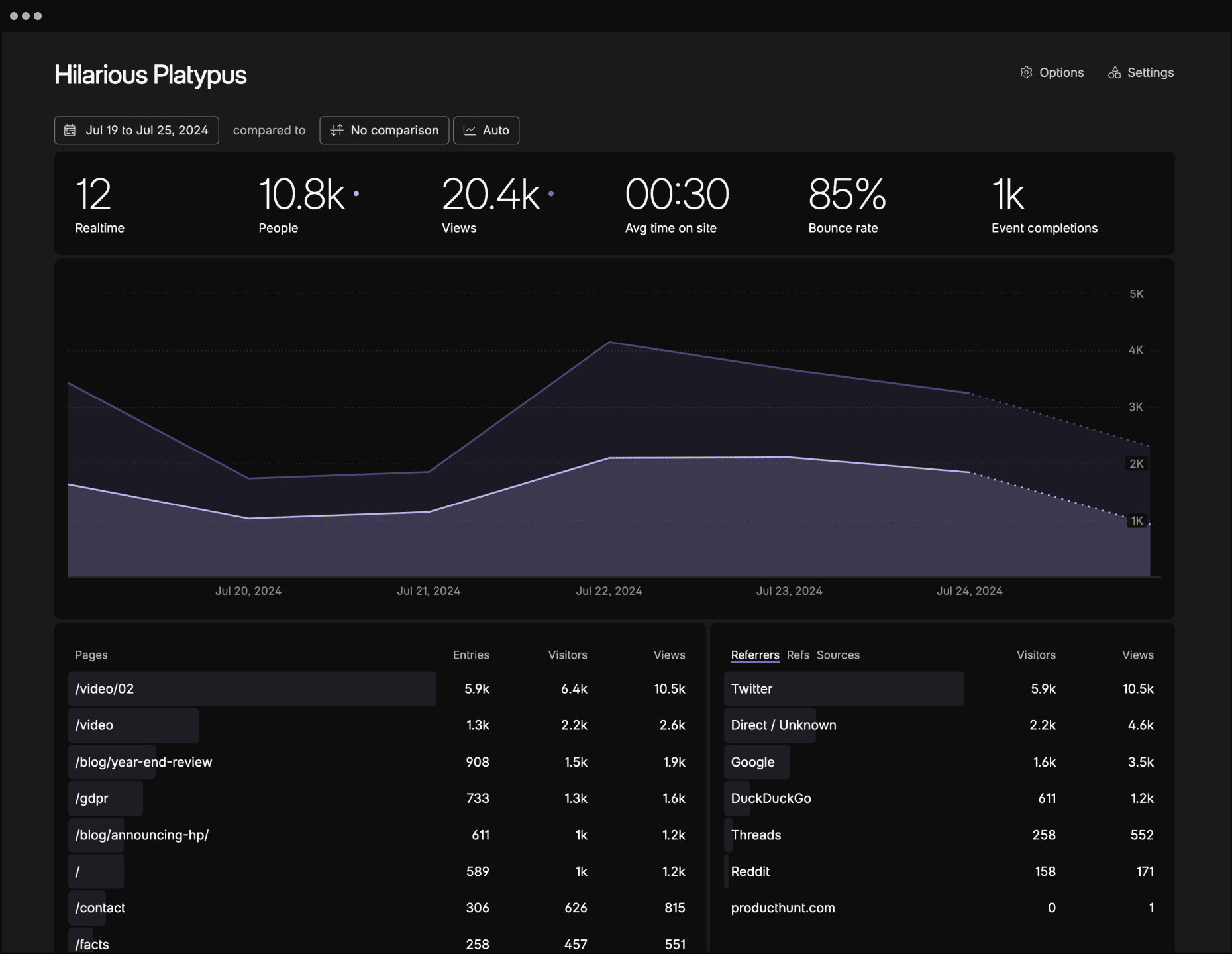 Questions your agency may have about Fathom analytics
"Why should I pay for analytics when Google Analytics is free?"

Free products aren't technically free, as there is always some mechanism to generate revenue (like selling data). Remember, if you aren't paying for the product, you are the product. That's why at Fathom, we sell software, not data.

"I'm not in the EU, do all these EU privacy laws apply to my agency or my clients?"

EU privacy laws, like the GDPR, affect any company that receives data from the EU. Our opinion is, why take a risk and suggest an analytics product that is breaking the law and could result in fines or complaints for your clients?

"Is Fathom hard to use?"

We created Fathom to be instantly understandable. No training is required, as it's just a single page of data. You can see a full, live demo here and watch a video walk-through of how to use Fathom here (it's only 6 minutes long).

"Can I create sites for all of my clients?"

Every Fathom account comes up with 50 sites included, and you can add more quickly ($14/month per each additional 50 sites). Every site can be shared with a client via dashboard sharing (they only see the site you share, not all your other sites), and each client can also have their own email reports.

"Will my clients see the dashboards of other clients?"

Nope! They can only see the dashboard you share with them with dashboard sharing, not your other sites/dashboards. The same goes for email reports; you can set up each report to send just with data from their site.

"What if I need to use Fathom on more than 50 sites?"

Just ask! We offer additional 50 sites at $14/month per 50 sites. Add as many as you'd like, or remove them if you find yourself with fewer clients over time.

"What if I want to move my client to their own Fathom account?"

We can quickly transfer any site on your account to any other Fathom account.

"Will using Fathom and not Google Analytics affect my clients SEO?"

Not at all. Fathom is excellent for SEO. Since our script is much smaller than Google Analytics, you could argue Fathom is even better for SEO than Google Analytics.

"Can I use Google Ads with Fathom to track my campaigns?"

You can! You can use UTMs to track each campaign in Fathom and then create events to measure conversions.

"What if I exceed my plan limit?"

First, we never stop collecting pageviews if you go over your plan limits. Our pricing policy is very generous and fair and gives you time to upgrade. If you don't upgrade your account, we lock your account but allow you a month before we stop collecting pageviews (giving you ample time to upgrade your account).

"Can we use Fathom alongside GA and use both at the same time?"

You can! If you want to take Fathom for a spin before committing to it, add our embed code alongside your Google Analytics code (it won't break anything). You will notice the numbers aren't identical, as we do several things better: bypass ad-blockers, block bots/scrapers, and much more to ensure your stats are entirely accurate.

"Can I migrate data from GA to Fathom?"

Not yet, but this feature is coming soon (2022). What our existing Fathom customers do is keep their GA account but disconnect it from tracking any websites. That way it can be imported once we launch this feature.
Give Fathom a try today at your agency
If the above information convinced you that Fathom is a better (and more legal) approach to offering website analytics to your clients, then give Fathom a try for free for 7 days. If you have any questions, please get in touch, we'd be happy to answer them.