Fathom Analytics blog / News
How to generate traffic to your website (so analytics become useful)
Some ways you can generate targeted traffic without violating your visitor's privacy or eroding their trust.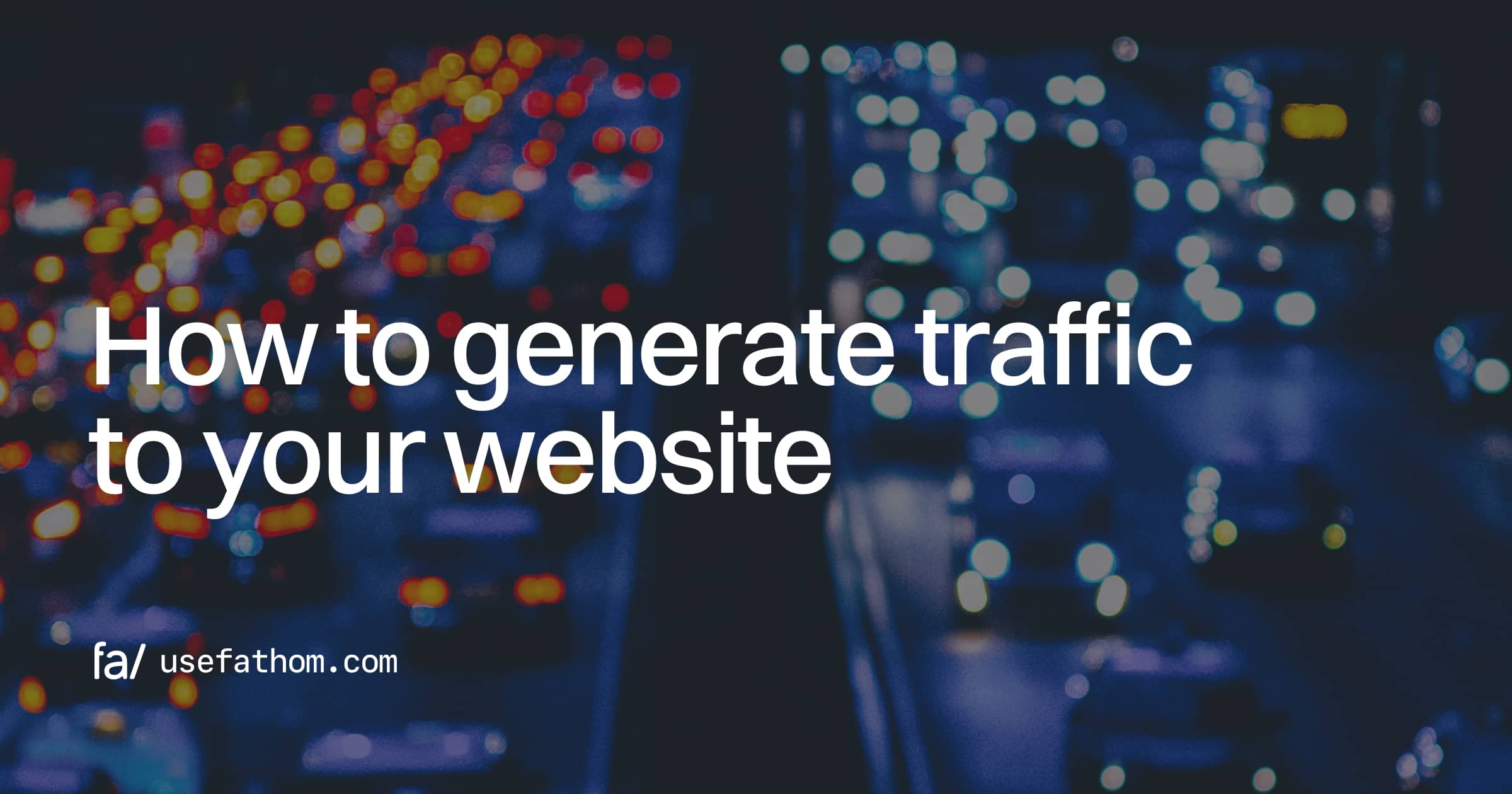 If you've got an account, sign-in and start using it today. If you're not yet a customer, grab a 30-day free trial and start using the importer within minutes.
You have a website, a product, and hopes and dreams of converting thousands of people into customers, but how do you get them to visit your digital doorstep?
The answer is surprisingly simple — you have to generate traffic.
Traffic = leads. And leads are what drive results.
So, whether it's word of mouth, snappy tweets, long-form authority building blog posts, or scoring spots on top podcasts, you need to:
exert your influence,
showcase your expertise, and
share what your company does to solve the pains of your audience.
And do so on the channels that get you in front of the right people.
Because without an effective lead generation strategy — your business is bust.
Newsflash! Generating traffic is not the ultimate goal
The goal is to convert.
Anyone you send to your website — you want them to take that next action.
Whether it's to opt-in to your email list, fill out a form, answer a survey, or hop on a call, the goal is to turn that curious reader into a customer or client (eventually.)
Of course, not everyone will be ready to commit to the next step as soon as they land on your site.
But if you populate your audience's preferred channels — offering value wherever you land — with each touchpoint, the decision to take action becomes easier for them to make.
And today, we're going to show you some ways you can generate that kind of targeted traffic without violating your visitor's privacy or eroding their trust.
Maximizing traffic vs. maximizing the right outcome
Before we get into how to find your ideal audience, it's important to remember that not all traffic is created equal.
And while many people might opt for volume of visitors, I'd argue that higher value (more qualified) leads are a smarter objective to reach for.
As Rand Fishkin recently mentioned:
I used to think of content marketing as a way to drive traffic. Some might buy today. Some in the future. Some might subscribe or share. It was a numbers game.
Now I think of it like advertising.
What story does our content tell?
What positioning is our content creating?
How do we make content that nudges people to think of our solution when they experience relevant problems?
How do I get that content in front of the right people?
In your mix of traffic generation tactics, you need to consider the channels that get you directly in front of your ideal audience. This allows you to be more focused and fine-tune your strategy — rather than try and be everywhere at once.
And the first piece of the puzzle is getting to know who those "right people" are (so you can figure out where they hang out, what they're most interested in, and what they need to know about your solution that helps you stand out in the crowd.)
Pains, Gains, and JTBD: The essential eye-opening research
Sending traffic to your website without a deep understanding of who you're trying to attract and what problems they want to solve — is a waste of time.
So before diving into any traffic strategy, you must perform audience research to help you get to know your ideal customer or client.
And predictably — the best insights come directly from the people you intend to sell to.
If you can't come up with a list of ten people to talk to directly (who you think would be a good fit for what you offer), you can use social listening, web research, and surveys to help you out.
The three most valuable things you need to know are:
Pains — the problems they encounter and wish to solve.
Gains — the goals they want to achieve and results they want to see.
Jobs to be done — the tasks they have to do to make it all happen.
I've found surveys incredibly valuable for finding out these key insights. You can send it to an email list or post it in your communities and ask some open questions like:
What do you struggle with the most?
What result would you love to create for yourself (or your company)?
What are your concerns about achieving it?
What do you think you need to do to get it done?
These questions will help you tease out eye-opening answers.
If you can't send a survey — scour communities, Amazon book reviews, Reddit channels, Facebook groups, and Twitter conversations to find your people and listen to what they say.
You can then capture that "voice of customer" data in a simple spreadsheet and start filtering out the specific pains, gains, and JTBD — which you can then create content around.
Three key things to consider when crafting a traffic strategy
1. Play to Your Strengths: How to choose your channels wisely
If you want to build an audience, you must create consistently.
Ask yourself:

→ What am I good at?
→ What energizes me?
→ What drains me?
→ What gives me an edge?

You can build an audience anywhere... but not everywhere. Choose your channels wisely."
— Katelyn Bourgoin
Considering you're more likely to follow through with a strategy you enjoy and are already great at — it's a good bet to begin your traffic exploration with the channels that make the most sense for you.
If you can write — SEO content, guest blogging, Twitter, and Linked In are great channels to take advantage of.
If you have an affinity for video and graphics — Youtube, Instagram, Tik Tok, and Pinterest might be calling to you.
If you're an excellent connector — jumping into conversions and being super active in communities will likely get you the recognition and referrals you crave.
We'll get into the specifics of some of these strategies shortly. But in any case, I always advocate for including long-form SEO content (or guest blogging) into your lead generation strategy.
Mainly because you can repurpose this content for multiple channels, which helps build your authority.
2. Time or money? There's no such thing as free traffic
Whether you're paying with the hours in your day or the money in your bank account — getting traffic is a cost of doing business. And acting like any channels are "free" is a fast way to devalue (or ignore) that work.
Understanding this also makes it easier to decide where you want to spend your resources.
If you have more time than money — you should invest in the channels that take up more time but offer a high payoff (like SEO and guest blogging.) And you'll likely need to do the work yourself.
You can consider paying great writers or getting started with paid sponsorships if you have more money than time.
3. Specificity FTW: Without focus, you'll fail
As Ross Simmonds says:
"Great marketing goals are specific. Instead of just saying we want to have a presence on Twitter. Specify what success looks like. 'We want to see XX impressions per month from organic.' Or 'We want to see XXXX referral visits.'"
In other words, don't just dive in with big dreams and no direction.
For each channel, ask yourself: What does success look like?
And use that outcome to decide on the best action to take next.
Take off! 11 traffic channels that build terrific traction
#1 — Search Engines
SEO is a powerful traffic strategy.
Essentially it is about creating content that matches the intent of people's online searches. And once you rank for a keyword, you can get long-term traffic with little additional effort.
But be warned, creating worthy content takes effort and expertise (or money to hire great writers or producers). It's also a long play. So you need patience.
The good thing is, you can do a lot with a little traffic.
As Brandan Hufford (SEO for the Rest of Us) says:
"You don't need big traffic numbers to win at SEO. Instead, you write highly persuasive, entertaining, content-filled articles that actually resonate with your readers and convert like crazy."
If writing is your strong suit, or you have the money to hire out — here are some elements of SEO to familiarize yourself with, so you can wrap your head around the basics and craft a winning strategy.
Content - The written words or videos you produce on your website.
On-Page SEO - Everything on your website that shows you're an authority. This includes website speed, titles, design, etc.
Off-Page SEO - Everything on the rest of the internet that says you're an authority. Primarily the links pointing back to your site from other websites.
Keyword - Words that people use to search for things in Google that are increasingly organized by topics, not individual keywords.
Backlink - A link from another website to your website.
Internal Link - A link on your website to somewhere else on your website.
Search Intent - What a person wants when searching for something in Google (buy, learn, watch, etc.).
You can check out some great resources here and here to get started. And you can see how much traffic you're getting from search engines in the Referrers box on your Fathom dashboard.
#2 — Social Media
We're all familiar with the power of social (whether we like it or not). And no doubt, even today, you've spent a fair amount of time scrolling one of your feeds in the hopes of learning something, connecting with someone, or passing the time while you procrastinate on doing some other kind of task.
The best thing about social is that it can generate quick traffic, you have the potential to go viral, and A LOT of people hang out on various platforms every single day. It's also low cost (relatively speaking).
But it's also important to note that social traffic can be short-lived and less valuable than other sources like email or SEO (where higher value leads often come from). This doesn't mean it won't work for your purposes — but you need to be strategic and cater to the preferences of the platform (and the people on it).
If you write long-form content for blogs or a newsletter or produce videos for Youtube — you can repurpose that content for social channels with greater reach. This gets more value from your original pieces and provides plenty of informational, free content to attract your ideal audience.
Because social media is "dark social" (meaning platforms strip the specific URL a click came from), we recommend using UTMs to track links back to your website from your social media posts. We even have a UTM builder for you to use.
#3 — Combing communities and jumping into conversations
Tapping into your networks and cliques that love to learn about your website's topics is super low cost and can overflow to other channels like social media.
But success is dependent on your niche, and it can be hard to know what will resonate. This means you need a deep understanding of what content they love and what pains they want to alleviate.
"Nothing beats discussion for exploring topics, getting feedback, and testing what you could eventually bake into a blog post or podcast episode. Many of us use channels like Twitter as petri dish – we experiment with ideas and ask for input long before we decide to create something of real substance." — Brennan Dunn
This strategy works best when you can reference and link to the content you've already created. So coupling with a solid SEO strategy, some excellent guest blogs, or a podcast interview is good practice.
But if you don't have these assets yet — Brennan Dunn suggests a simple five-step plan to get you going:
Browse through a community (like a Reddit subreddit, Facebook Group, or check out some curated Twitter lists)
Find an active conversation that you could provide some value to
Chime in with a 2-3 paragraph response, ideally that someone can take action on. Then…
Write a 500-1,000 word article or record a video that includes a more in-depth answer to the original question.
Cycle back later to your original comment, edit it, and add "UPDATE: I decided to write a more in-depth article on this subject on my blog: <link>."
#4 — Referrals
The right referral link can send you traffic for years with little effort. And become a significant factor in search engine ranking.
You can use sponsorships and partnerships or tap into your existing network to gain new referrals and help you boost your traffic numbers. And it can be done on a 1-to-1 basis (say, with emails to past clients or customers and getting them to share or recommend your company), or you can use a tool like Sparkloop to get a 1-to-many referral program going quickly and easily.
Of course, the traffic volume and value of referrals depend on the referrer, so building the right relationships is vital. Aas is leveraging your existing audiences (who likely know more people like them).
At Fathom, our privacy-focused affiliate program has generated a ton of growth for the company. Our partners earn an excellent commission, and we get a bunch of new customers who care about privacy as much as we do.
#5 — Guest Posts
Guest blogging is a content marketing strategy designed to leverage the high traffic of popular websites to boost the traffic to your site.
As an introvert who prefers written communication, discovering content marketing was a huge "aha" moment for me. And learning this alternative way to sell and market myself led me to where I am now.
As soon as I realized I could get more eyes on my work (and website) by writing for well-established sites, I knew it was the lead-generation strategy for me. And coupled with smart email marketing, it's a killer combination for any business operator.
Here's a quick rundown of what it involves:
You pitch your blog post ideas to a popular website that attracts the exact audience you want to target.
You craft a relevant, engaging piece of content, hoping it will get accepted and published on that site.
You urge readers to visit a landing page on your website using an Author Bio (or by line) at the end of your post.
You capture new visitors with an irresistible lead magnet and turn them into subscribers, with the ultimate goal of closing sales and turning them into clients or customers.
Guest blogging can work incredibly well for:
content creators who are going freelance,
solopreneurs who want to build their online audience; and
business owners who wish to showcase their expertise
#6 — Podcast Tours
Getting featured on a podcast is similar to pitching yourself for a guest posting opportunity.
You want to make sure the host (or whoever books in guests) knows that you know what their audience wants to hear.
When you're pitching a podcast host, be sure to mention:
Who you are
What you do
Any authority-building assets you have (books, courses, products, your podcast, etc.)
What you love about their podcast and why you think you'd be a good fit
A topic you think would resonate (get specific here and add some social proof if you can)
Then ask to be on their show (the worst they can say is no!)
You also want to make sure you're not a dud guest if you score the gig.
Here's some excellent advice for being a good podcast guest from my friend, Amanda Natividad (from Sparktoro):
How to be a good podcast guest:

- Prepare a story to tell
- Have a POV in your niche
- Be ready to back up your POV with stats/experience

Don't just wait for the host to lob questions at you.
Amanda Natividad
#7 — Speaking At Events
Booking speaking gigs allows you to showcase your expertise and get yourself on people's radar. Often for a very niche crowd (depending on the event).
And provided you know what you're talking about, give a good presentation, and offer a way to stay in touch, you can gain high-quality traffic.
Relationship building is a solid strategy for your business — but it's also a powerful play for when you're hoping to get booked or asked to speak at events.
The more authority-building content assets you create (and often the louder you are on social channels without being obnoxious), the more likely you are to score a chance to present.
#8 — In-Person Networking
Standing out in the minds of new people you meet can be difficult.
Throw in any negative feelings you might experience with the word "networking," — and in-person events become a situation many of us tend to avoid (or don't know how to handle when we do show up.)
As an introvert, I'm terrible at approaching people and starting up a conversation, so I tend to take advice from people who've perfected the art of thriving in these uncomfortable situations.
I found this thread from Sahil Bloom remarkably helpful. He offers a powerful playbook for making in-person networking easier.
Here are his top tips:
Say people's names back to them. ​​Meeting someone new get's awkward if you forget their name — so make a point of saying it back to them naturally in conversation. It will help you remember it and create a deeper connection with the person.
Ask a few engaging questions. Open-ended questions work best for getting people to talk (even though it's not technically a question, anything starting with "tell me about" is perfect.) Sahil mentions two of his favourites: "What are you working on that you're most excited about?" and "What's your favourite book you've read recently?"
Repeat & add on. "After you ask a question, listen intently to the person's response. When you have openings, repeat their response to them in your own words and add your perspective or impression. Make mental connections. It shows presence and independent thought." This will show your interest and offer you an opportunity to present your unique perspective.
Make situational eye contact. The last thing you want to do is stare someone down, or worse, never look them in the eye. So Sahil suggests situational eye contact: Deep while they speak, organic while you speak. (In other words, feel free to gaze off when you're thinking, but hammer key points home with intentional eye contact).
While leaving an impression is essential to stand out in someone's mind, the final step is the key to using in-person networking as a source of traffic.
You must follow up!
Identify creative areas for staying in touch. Then do the work to follow up!
Sahil notes that "I used to talk about my favourite books with new people. Then I would send them a copy of it with a handwritten note to their office."
An excellent lead magnet can also work incredibly well for in-person networking events — especially if you've established that it would be an obvious fit for anyone you speak to.
#9 — Writing A Book
If you're looking for qualified leads more than volume — writing a book can be an excellent way to generate traffic that gets you to that desired result (the conversion).
People who read your book are undoubtedly interested in what you say. And if they get to the end of your publication, they likely enjoyed it and want to hear more from you.
Generating traffic from your book can be as simple as adding a link to your website as the last line of your book. You then direct that link to a dedicated landing page for your readers.
You can consider a few different next steps for them to take here:
Connect on social media
Sign up for a newsletter
Receive bonus content
Buy a course that extends their learning
Provide a coupon code to refer your book to friends
Join an exclusive community
These sorts of things can continue interested people further down your content funnel.
#10 — Paid Sponsorships
In the early stages of business, we tend to have more time than money. And our goals reflect that; we do the things that increase our immediate income first.
But when a lack of time replaces a lack of money, you have to shift your focus to making it faster and easier to do what you do.
While we detest the privacy breaching practices of paid advertising (i.e., Facebook and Google ads) and steer clear of anything to do with retargeting — there are paid traffic avenues that don't violate the privacy of your future customers.
Paid sponsorships can be an excellent traffic shortcut if you can find the right partners. The traffic is highly targeted and tends to convert well (if you get the ad placement and the offer right!)
As a lead generation strategy — it offers fast results. And you can add in automation to attract, serve, and sell to your target audience at scale.
Of course, this kind of lead generation takes time to plan, prep, and piece together. And for most people — an entirely new skill set. So don't be fooled; it takes upfront effort to make it an effective channel for growth.
#11 — Email and direct traffic
Email is arguably the most valuable traffic source we have access to.
However, it does require you to build the audience first. This means trying a combination of a few of the other channels we mentioned above and using them to capture the email of the people who visit your site.
But once you own that audience, you can continually send traffic to your website.
And if you have a loyal subscriber base, you can do so much with that attention. So be sure you're creating content and offers that cater to them, not just to the new traffic you hope to generate.
Remember to use UTMs in your links when linking to your website, so you can track specific campaigns from newsletters, and see how effective they are at driving traffic to your site.
Remember: Reduce the friction for the next step
The amount of traffic matters less than each visitor's action when they set foot on your digital doorstep.
Give them a reason to keep you on the radar. And make it easy.
If they like what they read or can see how your solution might solve their problem — provide an obvious next step that allows you to stay in touch.
In most cases, the easiest way to move forward with the relationship is to capture their email and continue the conversation in their inbox. From there, you can determine what happens next. And with segmentation and personalization, you can figure out where they're at in the buyer journey. And what kind of help they might be after.
But of course, you still need to prioritize that work that gets those visitors to show up.
So take a look at some of the suggestions we have for you today — think about your specific strengths and constraints on your money or time, and choose the channels that make the most sense for you and your business.
You might also enjoy reading: